Taking the express to sandwich and pie heaven in Fort Lauderdale's vibrant FATVillage. Interview with Head Pastry Chef of JEY Hospitality, Anna Davis.
The long-awaited opening of JEY Hospitality's newest venture has now arrived and you can guarantee yours truly was one of the first in line to experience what the artisanal sandwich and pie shop has to offer. Henry's Sandwich Station is the inaugural restaurant to open in Fort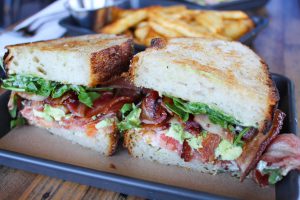 Lauderdale's ever-evolving FAT (Flagler Arts and Tech) Village. Their menu will spotlight local bread from Gran Forno, Miami's Zak the Baker, and have an impressive selection of in-house smoked and cured meats. To add more excitement, Henry's will offer breakfast items such as the FAT Village, which is scrambled eggs, chives, Tillamook cheddar, caramelized onions, and sriracha mayo all on a brioche bun (one of my personal favorites!) and delicious toasts like Ricotta and Honey, local ricotta, truffle honey, with crumbled pistachio. (Only served until 11 AM so get it while it's hot.)
While Henry's is sure to deliver on their promise of mouthwatering sandwiches, they did not miss a beat when they wanted to bring back Chef Anna Davis to curate their dessert menu. Fresh off The Salty Donut boat, this isn't Chef Davis' first rodeo with JEY. You may recall a certain award-winning S'mores Cookie from Public House? Yeah, that was a stroke of genius from Chef Davis.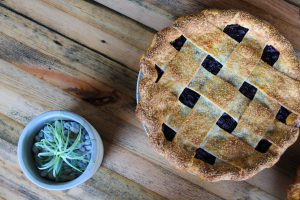 Hearing Chef Davis speak about her passion for baking is contagious. Her striking blue eyes widen, her smile brightens, and before you know it — your mouth starts to water. You may have tasted some of Chef Davis' food and perhaps have seen her commanding some of Fort Lauderdale's best kitchens but let's get to know the woman behind the chef's jacket.
Growing up in St. Joe Michigan, what inspirations have you gotten that exudes through your cooking?
"St. Joe is a small town, everyone knows everyone and it just feels like home whether you are from there or not; it's home when you are there. Most of my cooking and baking comes from that home feeling, made from the heart with lots of love."
What influenced you to start a career in pastry?
"I have always had a sweet spot for baking, hahaha… Ever since I was a little girl I wanted to cook or bake. My family always supported me to do whatever I wanted to do, so I cooked. It wasn't until I moved to South Florida that I got the opportunity to work with a well-known pastry chef that really made me change from cooking to baking."
What was your first gig as a pastry chef?
"It was with Max Santiago at this little Italian restaurant in Aventura (no longer there)."
How did you get your start with JEY Hospitality?
"I used to work with an awesome female chef named Tara Abrams at Tap 42. She and I went separate ways but we always kept in touch. She called me one day and said "Anna, I need you. Do you want to come work with me, it's a new restaurant Downtown." With no hesitation, I came and worked with her as a line cook and helped open Public House. Little did I know it was going to turn into this."
How has this experience been opening up a new restaurant?
"It has been a real eye-opener. There is so much time, prepping, planning, testing, multitasking, and a lot of work that goes into opening a restaurant. But I love it!"
Can you tell me what the inspiration behind your desserts at Henry's is? What sort of preparation did you do prior to manifesting the dessert menu?
"The inspiration behind the desserts is where I am from. I want people to get that homie, heart, and soul feeling. I want people to take a bite of pie or cookie and their first reaction is, "Wow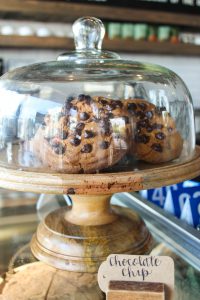 tastes like Grandma's, but better." Sorry Grandma, haha. I have taken those familiar flavors that we all grew up with and just elevated and put my own little touch on them. There was a lot, and I mean a lot of preparation that went into these desserts. I have tested out every single recipe at least 20 times. I wanted them to be perfect."
Do you eat your desserts?
"(Rubs tummy) Yes I do, all of them! I have such a sweet tooth."
Which dessert is your favorite at Henry's?
"Oh my God you are making me choose… If I had to choose, it would be the Apple Pie and here is why: My dad works for a produce company in Michigan that mainly deals with apples. When I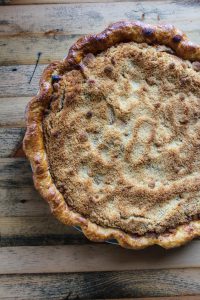 was younger he would wake me up at 4 AM to go to work with him. As soon as we would walk into the coolers where all the apples were kept, the smell would just hit you in your face! It was so crisp and fresh. The smell of apples always brings up memories of my dad and I and those early mornings… I am a sucker for apples, so if it has apples in it — it's my favorite."
What sets Henry's apart from other local eateries?
"What is setting us apart from the others is we are using all top of the line, U.S. based products. We are roasting and slicing all of our meats in-house. We don't have a soda fountain, we have craft sodas — and some might even take you back to your childhood.
One of my favorite beverages is our selection of Stumptown Coffee. It's based out of Portland, Oregon. The blend that we are using is called Hair Bender and it has notes of citrus, dark chocolate, complex with rich textures and balanced with classic flavors of Latin America and Africa. Another is a company called The Truffleist. We use a couple products from them like the truffle honey, it's on the Ricotta and Honey Toast.
We also have 10 plus items on the menu that are vegetarian/ vegan-friendly. And to top it off, the feel of this restaurant is like no other in Fort Lauderdale."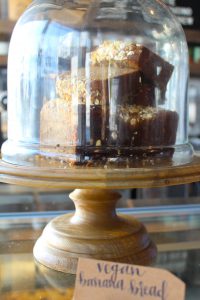 I hear you revamped several other dessert menus for JEY. Can you tell me a little bit more?
"Yes, I redid all of the desserts for ROK:BRGR and Pizza Craft. For ROK:BRGR I made a couple things: 1. A Brownie Sundae. It's this ooey gooey dark chocolate brownie topped with vanilla ice cream, drizzled with caramel, and topped with delicious almond streusel. 2. Little Doughnuts that are tossed in cinnamon sugar and served with dipping sauces which include a mixed berry, caramel, and chocolate peanut butter. 3. Salted Caramel Bread Pudding with chocolate chips. And at Pizza Craft, we have a Strawberry Lemon Panna Cotta with Lemon Biscotti. Cannoli which has orange, pistachio, and chocolate. And my personal favorite is the Tiramisu Cheesecake. It's everything you love about tiramisu and cheesecake — in one. Layers of espresso and ladyfingers."
Where do you see yourself and the future of JEY Hospitality?
"I would like to convince Marc to open a bakery/coffee shop and run that. Also, just keep making amazing desserts for new concepts that come into the JEY family."
Where are your favorite places in Fort Lauderdale?
"I love the beach and Happy Tails doggie park with my fur baby. Anything outside!"
Favorite place to eat (not JEY)?
"I love, love, love, love, Hot and Soul. And Temple Street Eatery is a close second."
What are your biggest inspirations?
"I really don't have one thing that inspires me. It's my grandmas, my dad, my mom, my family, watching the Food Network, watching other chefs work, pictures… Just random things."
What mentors have you had that has made the biggest impact on you?
"There are quite a lot of them, haha. I take what every chef has told and taught me and put it in a melting pot in my brain and learn from it — but there are three chefs that really have made a big impact in my life. Ryan Thornburg, he was the very first chef that I had in Michigan. He taughtme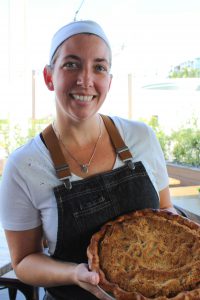 everything about cooking! He took the time out to explain everything. He wanted me to succeed. Max Santiago, he was the first pastry chef that I ever had. He went above and beyond to explain everything about baking and pastry. He even went into detail about the science behind it. He's so passionate and knowledgeable about pastry and that grew my knowledge and passion as well. Tara Abrams, she is one kick butt cookie. She has a work ethic like no other! To come in day in and out and to keep a level head no matter what is thrown at her, I truly admire that. She was the only one to take the time out and explain the "chef" side and the book work."
What's the best advice anyone has ever given you?
"It's so simple but never give up."
What's your favorite music to listen to while in the kitchen?
"I listen to everything. I put it on shuffle so one minute I am listening to Justin Timberlake, the next Bob Marley, next Jimmy Buffett, next Garth Brooks. I love everything. My favorite is anything upbeat."
Do you have any advice for fellow female chefs or women that aspire to work in a professional kitchen?
"Never give up. It's a women's world, not a man's. Keep working hard and it will pay off."
Henry's will be open 7 days a week Monday through Friday 8 AM to 8 PM, Saturday 8 AM to 9 PM, and Sundays 10 AM to 5 PM.