Here's a little story about my first time at Temple Street Eatery: Don't you love going to new places and saying to yourself "I'll definitely be back"? Temple Street Eatery is one of those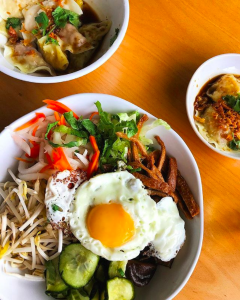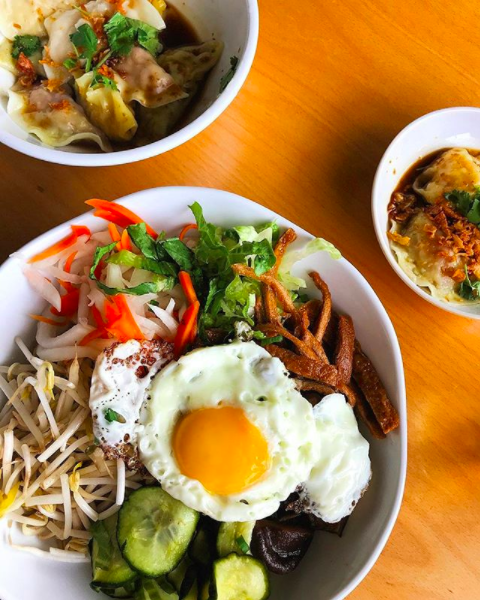 spots! They describe themselves as "Asian American comfort food" and you can smell the goodness waiting for you when you walk in. The design of the space is modern yet casual so you feel like you can grab a quick bite or share a long meal with a friend. No fuss. When I approached the counter my friend and I were greeted by a pleasant woman who is very knowledgeable about the food and the restaurant. We were pretty hungry so we decided to order a couple items: Wonton Tacos, Miso Noodle Soup, Bulgogi Rice Bowl, and Buddha Mix Dumplings.
We were dining in so we were given a number and sat a table in the middle of the room. This was around 4 o'clock. Shortly after we sat, we received our first appetizer of the Wonton Tacos which were a tasty and light start to our meal.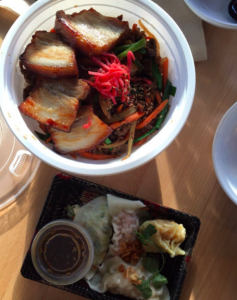 Fast forward to 5 o'clock and my friend had just received her to-go Miso Noodle soup. After some more waiting… And my stomach starting to sound off in ghoulish cries of hunger, at last, the rest of our food! In a to-go bag. This was a bummer but we unwrapped our Bulgogi Rice Bowl and Buddha Mix Dumplings and dug in. Everything was delicious! So flavorful. Their house "Buddha dumpling sauce" really took the food to the next level. With the exception of our food taking a while to come out and in to-go bags… Our experience was nice. Friendly and knowledgeable staff with exceptional food.
Since this inaugural visit, I have been back to Temple Street many, many times. I literally crave their Buddha mix dumplings and their special mini beef arepas on a weekly basis. Their happy hour is pretty awesomesauce with 1/2 off draft beer, $3-4 sakes, and $5 wine.
So many reasons to ♥ Temple Street.