Join Chloe Ravel, Daniela Sage & Gabriela Perez for an intimate evening of healing and wellness on Thursday April 12th from 6 PM to 9 PM.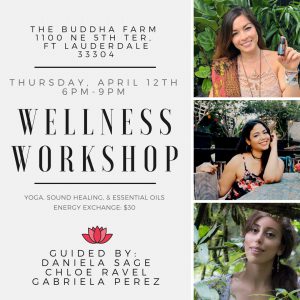 Come disconnect into a trance of empowerment, wellness, and self-love inviting you to reconnect with yourself and your power. The evening will begin by connecting with our bodies through a gentle yoga flow led by The Gemini Rising creator and RYT, Chloe Ravel. We will then enjoy savasana supplemented by a sacred Sound Healing session led by Daniela Sage, Medicine Woman and Essential Oils Educator. The healing vibrations will be accompanied by awakening the senses via dōTERRA's Certified Pure Therapeutic Grade essential oils, being administered by Oil Fairy Gabriela Perez. The 45-minute healing session will promote feelings of peace, help activate your power, and cleanse you of any stagnant or negative energy. Following the Sound Healing with Aromatherapy, Gabriela will lead a conversation on wellness, non-toxic living, and essential oils. She will be sharing experiences, knowledge, and resources, with the intention to empower and educate about the gift of Natural Solutions.
Not only is The Buddha Farm Yoga Studio an urban fairytale oasis, it is the first and only yoga co-op in South Florida. They have over a dozen classes every week! Check out their class schedule here: https://www.thebuddhafarm.com/pages/schedule.
For more details and tickets to this event, please click here: https://www.eventbrite.ca/e/wellness-workshop-yoga-sound-healing-w-aromatherapy-essential-oil-education-tickets-44800255771?ref=eios&aff=eios