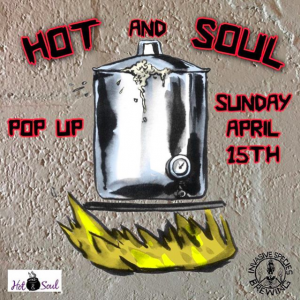 The oh so elusive Hot & Soul duo are at it again — and this time they are teaming up with one of my favorite breweries in town. Chef couple extraordinaire Christy Samoy and Mike Hampton are joining forces with Invasive Species Brewing to bring you a pop-up sure to be unlike anything you've tasted before. This will be their very first pop-up since suddenly shutting their doors at their Oakland Park location one month ago. The menu will consist of the following:
1. Cold Thai curry peanut noodle salad with lots of veggies
2. Carlino burgers from Mike's hometown. Loose meat, pickles, mustard, American cheese, secret sauce
3. Shrimp aquachile, cucumber, roasted jalapeño, avocado, smoked paprika
4. Backyard barbecue chicken, green sausage, potato salad
5. "Christy's awesome cornbread" with honey butter
6. Coconut chocolate pie
All ya got to do is show up on Sunday, April 15th from 2 to 8 PM at Invasive Species Brewing.
Get pumped and check out this great video by Christopher Kilayko titled, "Hot & Soul Will Live On!"