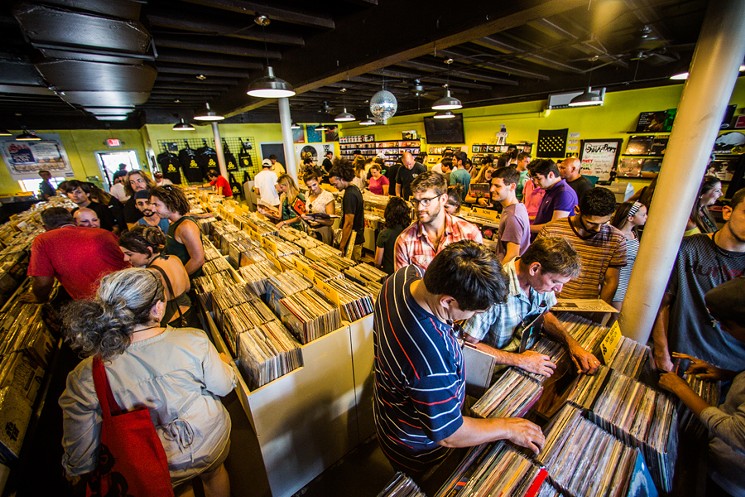 Record Store Day is an annual event inaugurated in 2008 to celebrate the culture of the independently owned record store and will be held this year on Saturday, April 13th, 2019! Many records are explicitly pressed for Record Store Day, with a list of releases for each country, and only distributed to shops participating in the event. The day brings together fans, artists, and thousands of independent record stores across the world, each celebrating this day in their unique ways. In the end, we all share what brings us together, vinyl records.
• • •
One of my wishes for Lauderbabe is to be a celebration of supporting your local communities (no matter where you are!), so this year I've teamed up with the stellar crew at Fort Lauderdale's very own Radio-Active Records to throw a record store day boogie for everyone! Radio-Active will have thousands of new arrivals, second-hand records, and 45's ranging from alternative, R&B, jazz, catalog, punk, reggae and everything else your brain could fathom. Live music and local DJ's will be taking the reigns on entertainment and to take it up a notch; we will be hosting a live educational panel with Erin Lee of 104.3 The Shark's "Open Swim" along with some other special guests, talking all things RSD and vinyl.
Arrive early for Radio-Active Records swag, 10 for $1 mix and match sidewalk sale, free beverages, food truck, and giveaways! Stick around for a chance to win raffle prizes and concert tickets from South Florida's best music venues like The Fillmore Miami Beach at the Jackie Gleason Theater, Revolution Live, and culture room. The cherry on top of this record pie is I will be doing a social media Instagram Takeover exclusively on @RadioActiveRecords for some behind-the-scenes action! Additionally, we have partnered with Musicians On Call to bring awareness to the healing gift of music. If you decide to swing by, purchase our special limited RSD shirt and all proceeds will be going directly to Musicians On Call (or donate to this phenomenal cause via this link: https://donate.musiciansoncall.org/radioactiverecords).
Let's support local, dance, and laugh together on April 13th at Radio-Active Records. Doors are open 8 AM until the roof comes off. (Kidding! 9 PM.)
For full exclusive for Record Store Day 2019 release list and more information on Record Store Day, please visitwww.recordstoreday.com/SpecialReleases.