Fort Lauderdale craves new experiences. Something that pushes boundaries and sets the tone for a more refined taste here in our up and coming community. South Florida is a diverse metropolis, and it's hard to pinpoint what exactly the masses are looking for. However, Fort Lauderdale is on the cusp of becoming a romantic, beach-side city who's creative hub rivals that of Miami, Austin, and San Francisco. Think local art and inviting, eclectic, iconic spaces. Let's start curating it as such.
I will be frank for a moment. Fort Lauderdale has been struggling to maintain the character that made it famous in the first place. Rents are pricing "creatives" out. Every other day it seems there is a new condo building going up and our city's landscape changes with no mind to how it impacts the public or what these developers can do for Fort Lauderdale. How is it possible to keep up with our ever-changing city? There is a silver lining. The many passionate individuals who have been involved with our growing community have continued to stick around, and The Dalmar Fort Lauderdale has expressed it's particular interest in neighborhood input and being a driving partner in helping with local initiatives. The new Federal Highway development is set to include public art and murals in collaboration with a (or several) local artists on their latest project. It's partnerships like this that aim to boost our city's image in a positive and impactful way.
Details of The Dalmar are a sixth-floor grand lobby, pool deck with spacious cabanas, lush secret garden terraces, fitness room, high tech meeting spaces that inspire creativity with floor to ceiling windows, gorgeous city views, and exquisitely designed mixed-use indoor and outdoor areas. Dalmar promises to elevate your local dining experience with chic settings, South Florida-inspired cuisine, and handcrafted cocktails. Each of their five culinary gems attracts tempting menu options, outstanding hospitality, one-of-a-kind bartenders, and ambiance unlike anything in Fort Lauderdale. Ground floor concepts include The Terrace Grill, Rose's Coffee Bar, and local zen staple, The Yoga Joint. Full restaurant and some drinking options courtesy of the award-winning hospitality group, Death & Co., include the following:
The Terrace Grill – Open for lunch and dinner, The Terrace Grill restaurant, located on the ground floor of The Dalmar, will capture the essence of an iconic American bistro. With soaring ceilings and whitewashed walls, the curvy banquettes and dense seating clusters will invoke a buzz and aura of days gone by, while still remaining firmly in the present. Featuring a large wrap around outdoor veranda, The Terrace Grill will soon become an icon of Fort Lauderdale.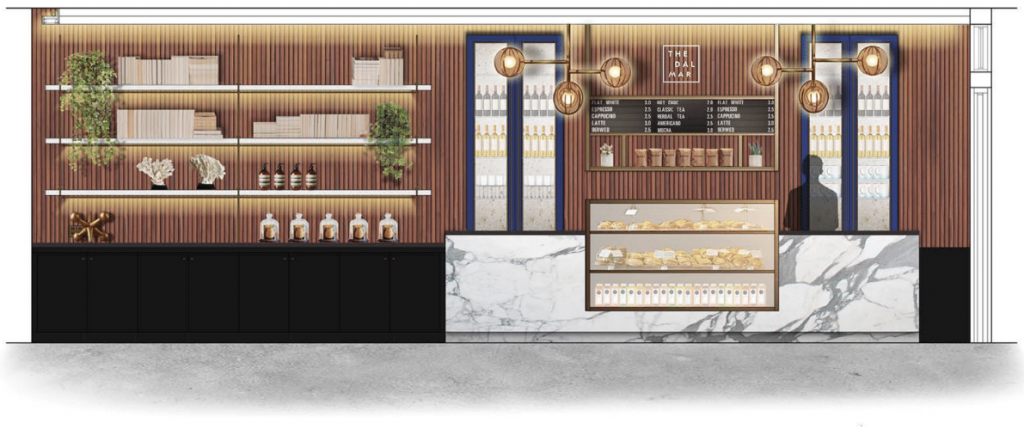 Rose's Coffee Bar – Ideal for a morning cup of coffee or a quiet place to read the paper, Rose's Coffee Bar offers guests a first taste of the hotel with its ground floor entry. Open daily from 6:30 AM to 6:00 PM, guests can enjoy this premier coffee bar and bakery featuring Philadelphia's famed La Colombe Coffee Roasters.
Sparrow – In collaboration with Proprietors LLC, the rooftop bar, boasts the best views in the city from the 25th floor. Inspired by the golden age of American travel, Sparrow celebrates iconic design elements created during the 1950's and 1960's. Just like the booming era of mid-century modernism, the rooftop is now the contemporary backdrop for the ultimate social gathering. Sparrow will be open to the public nightly from 4:00 PM until late night and brunch on the weekends.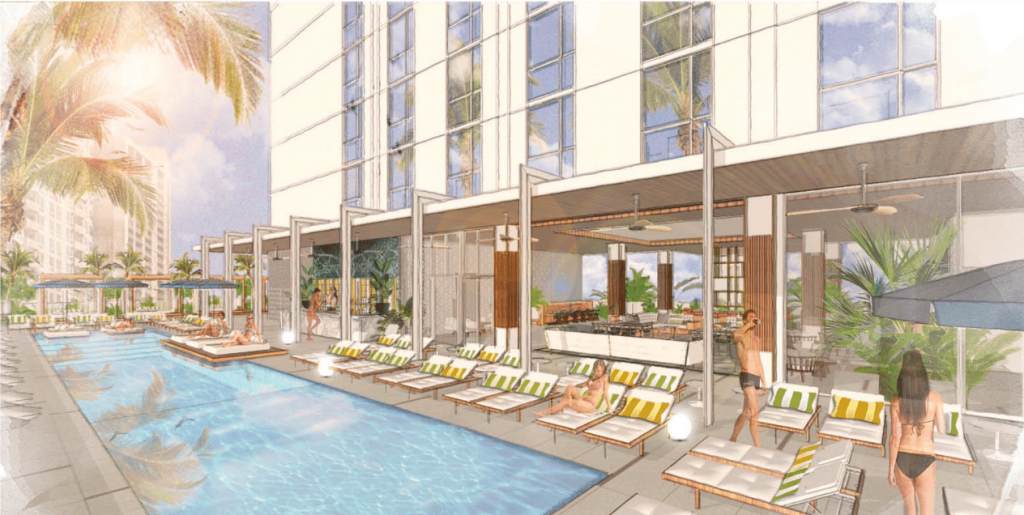 Sip 'N Dip Pool Bar – Located adjacent to the infinity pool on the sixth floor, the vibrant pool bar encourages guests to sit back and relax while enjoying freshly-made handcrafted cocktails and delicious bites. Sip N' Dip is open from sunrise to sunset.
Lobby Lounge & Bar – Situated on the sixth floor, the lobby lounge will offer a relaxed atmosphere with specialty cocktails and views of Fort Lauderdale through the level to ceiling windows. Open to accommodate all-day enjoyment; food and drink will be served from 7:00 AM to midnight (most nights).
Also, set to launch with The Dalmar's opening is an annual VIP membership program, including access to all social areas, priority reservations at poolside cabanas, discounts on food and beverage, and exclusive programming and events for members. The program will open for applications in June through members@thedalmar.com, and a limited number of memberships will be made available.
The Dalmar Fort Lauderdale is set to unlock October 2018, and I cannot wait to see this project come to life. Come find me at Sip 'n Dip Pool Bar.
Follow The Dalmar Fort Lauderdale on Instagram and Facebook to keep up to date with happenings and their grand opening.
Scroll down for exclusive #BTS!