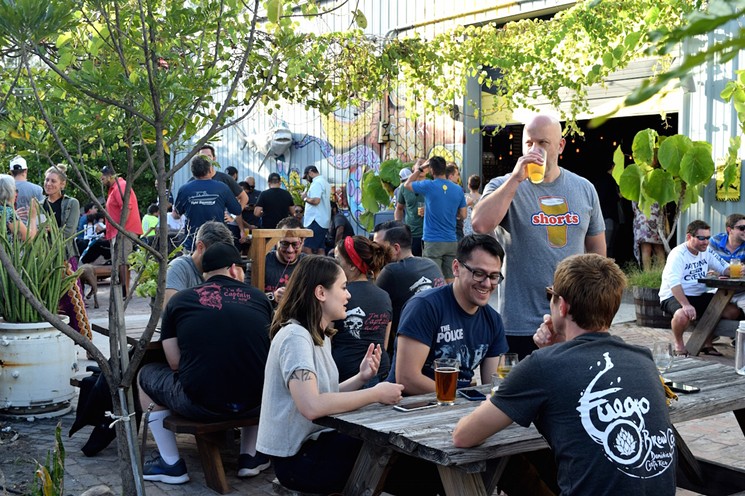 Sometimes you want to go, where everybody knows your name. At LauderAle Brewery & Taproom, the crew is always glad you came. Built by Fort Lauderdale natives Joey Farrell and Kyle Jones, they have turned an unsuspecting space in a marine-industrial warehouse district into a rustic and laid back taproom. Recycled pallets, railroad ties, string lights, picnic tables, outdoor beer garden, and tons of DIY charm help to create an effortlessly casual vibe in this independently owned and operated brewery. LauderAle has 30 drafts rotating through 60+ craft beers and offers several core favorite brews such as "Lunch Money," a New England Style Pale Ale, "Therapy Session," a light and hoppy session IPA, and "La Nina," which is a mango-habanero cream ale and straight-up magic.
Voted one of South Florida's Best Breweries, I have always been drawn to this nano brewery's approach to the community and involving other businesses for hands-on local programming. From Ales and Asanas, a farmers market, to one-of-a-kind curated dinners, LauderAle consistently delivers when it comes to creating an experience for everyone. So imagine my delight when I was invited to a private tour of LauderAle, I could not refuse! The dynamic duo, Dominic and Janae taught me some ins and outs of their brewing process that was educational as much as it was fun to drink.
"First, we use a reverse osmosis system to clarify the water. We then bring it to a boil and add back in minerals to mimic the water used in the original beer styles," says Director of Marketing and Events, Janae Jensen. "Example, for a Belgian beer we make water profile as it would be in Belgium. Then in the mash tun, we combine the hot water and malt to pull out all the sugars from the grain. This "sugar water" or Wort is then drained out and transferred to the kettle. The leftover solids, now called "spent Grain" are put into buckets and donated to a local farm to feed to the animals. The Wort in the kettle boils, and hops are added for flavor, color, and bitterness. The liquid is then run through a heat exchanger to cool it down and transfer it into a fermentation tank, where we then add yeast. The yeast eats all the sugars and produces alcohol. A silly way to say this is the yeast eats sugar and poops alcohol [haha]. Once the fermentation is complete, we transfer the beer to a Brite tank where it is clarified and carbonated before its put into kegs and served."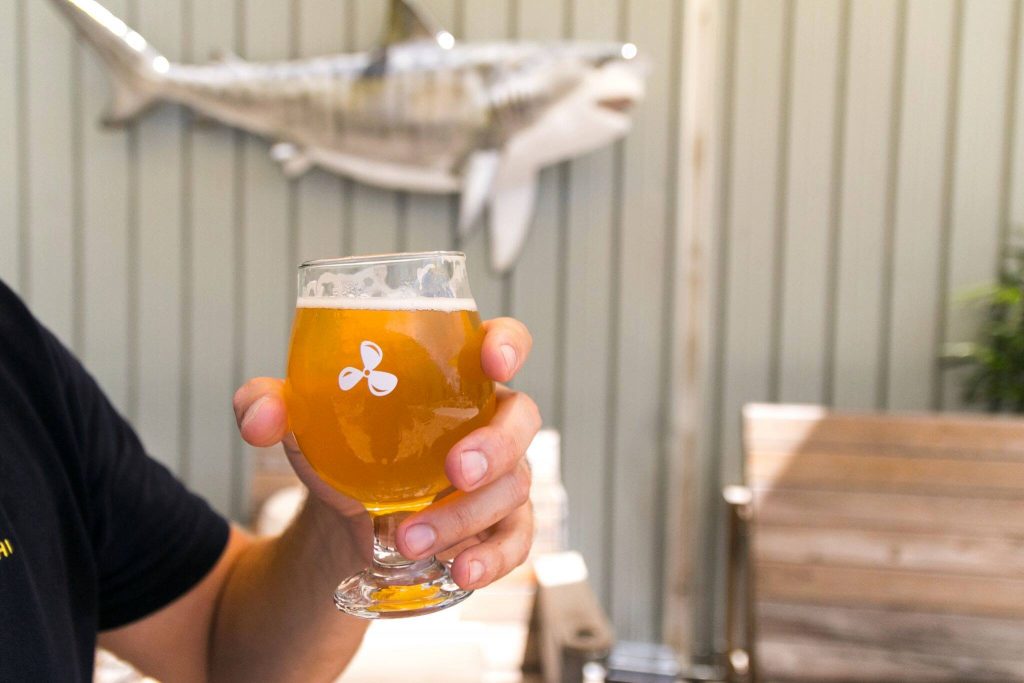 Their dedication to cultivating authentic hand-crafted ales is front and center and focused on local culture and influence. LauderAle's brewers and staff are some of the most passionate individuals in the industry, and it shines through with the quality and taste of their creations. Always more than happy to help you navigate the ever-changing tap list of cream ales and lagers, IPA's and Belgians, porters, stouts, and limited edition barrel-aged beers. They have indeed gotten it right by bringing together people who create an experience and sense of community that separates them from the noise.
Let's help this neighborhood joint kick-off it's 5th Anniversary in a 3-day, totally kid and doggo-friendly, blowout this Friday, July 26th through Sunday, July 28th! Commemorative Anniversary t-shirts, exclusive pint glasses, and limited-release bottles and cans will be on hand. As well as the only chance to become a member of the coveted "Captains Club," where you get a personalized Oktoberfest-style 22 oz mug stored at the brewery all year, and of course, many exciting perks along the way. The LauderAle team will be releasing ten specialty brews every day, host food trucks, and live music throughout this incredible 5th Anniversary milestone.
---
Visit LauderAle's Facebook event page for more details on their 5th Anniversary here.
LauderAle is located at 3305 SE 14th Ave, Fort Lauderdale, FL 33316.
Follow them on Instagram and Facebook.