Clean beauty is always in. Consciously created nail and skincare made locally by sisters, Terra Beauty is certified vegan, cruelty-free, and 10/free. Every purchase contributes to the planting of trees in Brazil, the Amazon, and here in Florida, keeping with their ethos of empowering women through charitable contributions. I'm currently crushing on the No. 15 Dark Eggplant polish ($12) and Terra's Floral Infusion Multitasking Oil for body + hair ($25). Visit terrabeautybars.com and take 20% off your first order with code: TERRA20!
• Follow Terra Beauty on Instagram and Facebook.
Beautiful, functional handwoven textiles that preserve artisanal weaving in Tunisia and celebrate Brazilian beach culture. Each of Fouta Harissa's goods starts with the selection of the finest Italian-spun 100% cotton yarn that's then rhythmically hand-woven and hand-finished. This incredibly detailed craftsmanship combined with inspired quality and Brazilian design makes for a unique Fouta that's meant to be as long-lasting as it is beautiful. Visit foutaharissa.com to shop.
• Follow Fouta Harissa on Instagram and Facebook.
The Spicy Dolma brings Armenian inspired small-batch soul food straight to your home. From Lahmajun – Armenian style beef or vegetable flatbread, Dolma – a variety of stuffed vegetables, flaky and sweet Shaabiyat, to the legendary "Mante", a beef filled crispy ravioli that is then served with yogurt, broth, and herbs, founder Maral Arslanian has truly created a taste of love and passion that shines in her food. I predict a box of delicious bizcochos (24 treats/cookies) of sweet and salty Kejké decorated with nigella and sesame seeds, Quince Pepas made with almond flour and dates, and Guarbié dusted with powdered sugar and studded with a pistachio gem will make you the favorite at any holiday gathering you bring them to! For additional information visit instagram.com/the_spicy_dolma. (Order from now until December 20th for a December 21st delivery.)
• Follow The Spicy Dolma on Instagram.
This one is for the rebels, free spirits, and #SpaceInvaders. Legendary Club Space Miami has been keeping things groovy during its weekly Thursday evening live streams and with a new line of branded merch that transports you back to sunrises on the terrace. IYKYK, so cop these designs before they run out. On my radar: "Born to Rave" Obsidian Tee ($34.99), 'Honey Bones' Space Windbreaker ($69.99), Nebula Reversible Bucket Hat ($39.99), and Miami Music Week LS Acid Tee ($39.99). Visit clubspace.com/shop to purchase.
• Follow Club Space on Instagram and Facebook.
Launched in 2010 by Florida-raised Peruvian brothers Jason and Jerry Rodriguez, STRATA is worn by friends, musicians, artists, athletes, and the individual inspired by music culture. They've produced merchandise for the likes of SXSW, Red Bull, Rolling Loud, The Art Plug, and the aforementioned, Club Space Miami. Shop their elevated essentials like the 'Roadcase' frames in Champagne ($90), Women's Crew Bomber ($110), and Classic Demin Jacket ($90). Visit them online at strataclothing.com to shop.
• Follow STRATA on Instagram and Facebook.
Naunet Floral is a Miami-based floral studio that is always dreaming and scheming up fun, raw, beautiful, and elegant designs that are one of a kind (and sometimes custom painted!) to suit a specific place and time. Founded by Daniela Estrada, her journey into floral design is rooted in her visual arts, painting, and fashion background — trying to combine her love for nature and art into one outlet. Naunet offers botanical-based styling that creates a unique and immersive visual dialogue between people and nature, offering more than floral arrangements with advertising and brand expression, fashion and editorials, weddings, and creative/immersive events. Visit instagram.com/naunet_floral to see what botanical dream or floral scape Dani can create for you.
• Follow Naunet Floral on Instagram and Facebook.
Let Tim and Tracy point you in the right direction when it comes to the wine lover and closet foodie in your life. Located in Flagler Village, Small Wine Shop is 100 percent that stop for all your natural, organic, biodynamic, low-intervention wines. Shop their phenomenal selection of curated natty wines or take a day trip/give into your wanderlust with one of their sweet wine club memberships (from $50-$75 per month.) Visit them online at smallwineshop.com to purchase or shop in-store at 410 North Andrews Avenue, Fort Lauderdale, FL 33301.
• Follow Small Wine Shop on Instagram and Facebook.
At Pleit, you invite the guests and they do the rest. Co-founders Valerie and Silvana created this concept to transform the art of hosting with a click of a button (or two). Their goal is to provide trendy, fully rentable looks while offering the opportunity to shop them all. With the recent change in events (literally, all events), they are bringing to the table a safe, fun service to celebrate once again. From small weddings to birthdays, holidays, to girls' nights, Pleit is perfect for any occasion you can think of. Visit them online to learn more on how to #PleitIt at pleitit.com/how-to-pleit-it and/or shop their incredible looks here.
• Follow Pleit on Instagram and Facebook.
When you're here, you're fam, and you can never go wrong with the gift of music. I head to Radio-Active for tunes from The Talking Heads to Margo Price and anything in between. The staff is always there to lend a helping hand and tell you what's on their radar. Shop online at radio-active-records.com, curbside, or safely, in-person at their centrally located Federal Highway brick and mortar.
• Follow Radio-Active on Instagram and Facebook.
Honorable Mentions:
• We Got the Beats — Shop online at wegotthebeatsrecordstore.com or in person at their Oakland Park and Lauderhill locations.
• Record Rack — Shop in person at their Pompano Beach location.
• Sweat Records — Shop online at shop.sweatrecordsmiami.com or in person.
• Technique Records — Shop online at techniquerecords.com or in person.
Floreana Nail Spa was designed to be your home away from home – a place where you can feel happy and relaxed while getting your nails professionally cared for. They promote clean beauty by offering choices that are ethical, environmentally-friendly, and safe for our health. Owner and self-proclaimed mommy-preneur, Valentina is inspired by her Ecuadorian roots and has carefully curated a services menu that offers healthy choices without sacrificing quality or beauty. View offerings, book, and choose from signature non-toxic manicures, pedicures, and scrubs, to classic gel/dip powder treatments by visiting floreananails.com. Gift cards are also available for purchase by visiting in-store or by calling (305) 484-6169.
• Follow Floreana Nail Spa on Instagram and Facebook.
Inspired by travel and the wanderlust spirit, The Wander Shop is female-owned and operated by Lauderdale local Marisa Folz who brings a bit of boho to our beachside city. The Wander Shop is the perfect stop for cozy casual knits like the Clara Cardigan ($54), showstopping hats like the James Wool Rancher ($110), locally sourced candles from Inner Flame Candle Co., stocking stuffers, plants, and other curated selection of apparel, accessories, and gifts. Visit them online at thewandershop.com or shop in-person at 915 N. Flagler Dr, Fort Lauderdale, FL 33304.
• Follow The Wander Shop on Instagram and Facebook.
The ultimate party trick? Serve a Fela cake. Their menu starts with Fela's signature cheesecake. No-fuss – just perfectly light and fluffy sweetened cream cheese atop a buttery graham cracker crust, topped with fresh raspberries for good measure. Fela specializes in home-style bakes with select, hand-picked ingredients, and minimal fashioning. With a nod to their personal history, Fela Sweets creations are always baked-to-order, always personalized, and never gimmicky. Choose from wonderfully delicious options like Lemon Olive Oil Cake (from $36), Pumpkin Swirl Cheesecake from ($48), The Confetti Cake (from $38), and Brown Butter Pistachio Pound Cake ($36). Visit felasweets.com to indulge.
• Follow Fela Sweets on Instagram and Facebook.
Simonett is a women's ready-to-wear label by Simonett Pereira and independent store located in Miami housing unique design pieces from around the world. Artfully crafted and beautifully designed, each garment and accessory breathes new life into the ever-evolving female wardrobe. Their silhouettes are defined by fluidity and remain wearable through the changing of trends and seasons. Visit simonett.us to shop and peep coveted items like the Time Set ($155), éliou Sai Necklace ($180), High Slit One Sleeve Sweater Dress ($113), Open Shoulder Crop Top Sweater ($63), and Volume Croc Leather Trousers ($135).
• Follow Simonett on Instagram and Facebook.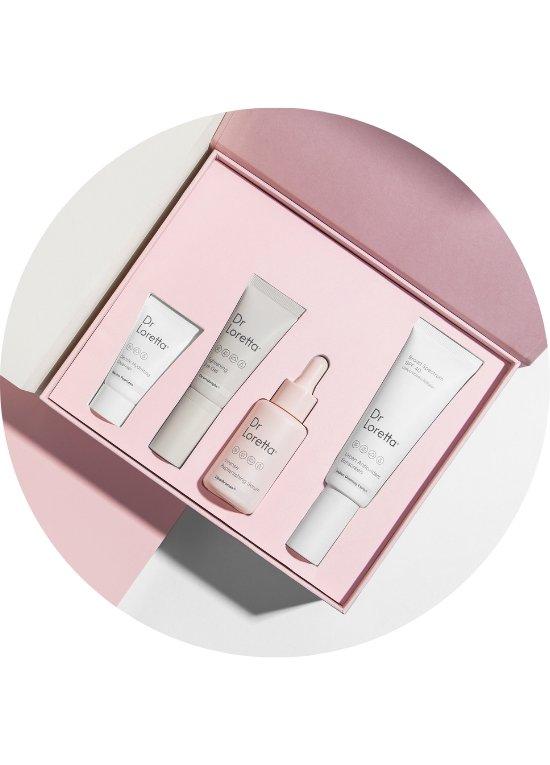 Calma is a Miami based floral studio created by Elizabeth Jaime that's modern, tropical-ish, and always evolving. Elizabeth likes to blend old and new floral traditions to create fun and memorable moments for people and brands. No two arrangements are ever alike and that's what I believe is so special about Jamie's work. Visit Calma at calma-miami.com + shop their stunning floral arrangements and unique gifts like Beeswax Duplero Candles by NILE ($16), Blob Vase ($50), HAY Rainbow Oval Tray ($20), Jay "Kirby" Vase ($40), and Enny "Kirby" Vase ($40).
• Follow Calma on Instagram and Facebook.
I've never in my life been excited about a skincare routine until I tried Dr. Loretta products. It is the first skincare line that protects from the four external factors responsible for more than 85% of skin aging — and I'm all the way here for it. Dr. Loretta's products are cruelty-free and formulated without sulfates, parabens, formaldehyde-releasing ingredients, artificial dyes or fragrances, and other known irritants, which just adds to the growing list of why I love them. Visit drloretta.com to shop essentials like the Intense Replenishing Serum ($70), Tightening Eye Gel ($60), and Allure's "Best Facial Cleansers of All Time," Gentle Hydrating Cleanser ($35).
• Follow Dr. Loretta on Instagram and Facebook.
Wellness that's well out of the ordinary. Our surrounding environment inspires The Spa at Auberge Beach in Fort Lauderdale, with each handcrafted practice focusing on the healing properties of Sea, Salt, Sand, and Sound. Visit aubergebeachspa.com to learn more/book or purchase a gift card for the ultimate stocking stuffer (from $50.)
• Follow The Spa at Auberge Beach on Instagram and Facebook.
Lovelee Bakeshop is a local modern bakery helping celebrations come to life by making sweets guaranteed to put a smile on your face. Their offerings range from tiered cakes, ooey-gooey brownies, bacon cheddar buns, chocolate chip sea salt cookies, hearty cinnamon buns, and "monster" bagels ($3-$15) that are v necessary for your next brunch gathering, Secret Santa, or family function. Shop Lovelee's holiday menu which includes a Hot Chocolate Bar Kit ($46), Hanukkah Box ($18), and Build Your Own Dreidel Cookie Cake Kit ($27) and so much more! Visit online at loveleebakeshop.com to place your order and/or visit the shop in-person on Thursdays, Fridays, and Saturdays. (Check website for store hours.)
• Follow Lovelee Bake Shop on Instagram and Facebook.
Alexandra Kamper of Kampers Kitchen is absolutely killing the charcuterie board and grazing tables game (see photos above for proof.) After having spent the last seven years as a wedding and special events coordinator for Hugh's Culinary, Kamper's Kitchen was born from her passion for hosting, creating, and styling all things food. Visit kamperskitchen.com to order Alex's iconic af Grazing Tables, Boxes, Boards, and Platters.
(All pricing is customized based on venue location, guest count, and desired set up. Please contact them directly for a detailed proposal!)

• Follow Kampers Kitchen on Instagram and Facebook.
Peruvian-inspired spreads made for the health-conscious foodie are perfect for all thee occasions. Founded by local entrepreneur Giuliana Bedoya Pflucker, 'Bout a jar comes in compact glass vessels of flavors like ají amarillo, rocoto, olivo, and cilantro with toppings of pickle salsa criolla, and black olive chimichurri. Is your mouth watering yet? Giuli's menu can be viewed here and to order, simply Direct Message on Instagram or call (786) 369-6915.
• Follow 'Bout a jar on Instagram.
• Follow Sweet Rustic Bake Shop on Instagram and Facebook.
Welcome to their little world filled with fresh flowers, dried stems, and pampas grass…on wheels! Birdie Floral Truck is a South Florida flower truck traveling throughout Palm Beach and Broward County, where you can find them at the best events, markets, and pop-ups. Their pretty yet effortless arrangements make for the perfect gift-on-the-go. Find out where they'll be next on their IG + website at birdiefloraltruck.com.
• Follow Birdie Floral Truck on Instagram.
Go-to for one-of-a-kind, sustainable, hand-picked vintage threads for everyone. Visit etsy.com/shop/TwelveaftervintageCo to shop.
• Follow Twelve After Vintage on Instagram.
Doors are open, come play. Roxanne's is our sexy little city's newest watering hole. They're selling some cool Roxanne's branded tee shirts and some cracking good drinks + bar menu items which I highly encourage you to check out this holiday season for awesome and easy gifting. Visit roxannesftl.com for weekly specials and events.

Fun fact: I will be doing a giveaway featuring a $25 gift card and Roxanne's tee the week of December 14th, 2020 — so stay tuned to @Lauderbabe on Instagram!
• Follow Roxanne's on Instagram and Facebook.
FOOSHOO, by Sofia Maspons, is a Miami-based studio focused mostly on hand-formed ceramics with some embroidery art and macramé on the side. All works are handcrafted by Sofia in the apartment she shares with her husband, Bruce, and "lovably evil" Chiweenie, Fushi. Visit fooshoo.co to shop.
• Follow FOOSHOO on Instagram and Facebook.
As we transition into the New Year and attempt to get back to "normal" life, what better bonding experience with your furbaby than a 1-on-1 with Moca Paws founder, Monica Crowley! Monica is a Certified Professional Dog Trainer, a Certified AKC Canine Good Citizen & AKC Star Puppy Evaluator, and has taken additional coursework specializing in Fear and Aggression, Canine Separation Anxiety, Canine Communication and Body Language, and Pet First Aid. This Fort Lauderdale-based trainer continues to seek out new qualifications to stay at the cutting edge of positive reinforcement dog training and give her best to help you and your dog (or your neighbors!) live a more harmonious life. Pricing is simple and straight forward — a private in-home session is $100 and will last 1 hour (up to 90 minutes for behavior cases), and a private virtual session is $90 and will last 1 hour (up to 90 minutes for behavior cases.) Visit www.mocapaws.com to learn more or call (561) 929-4674 to book.
• Follow Moca Paws on Instagram and Facebook.
As the OG of bikinis and swimwear here in Fort Lauderdale and abroad, Alexandra Grief's Montce Swim sets the bar when it comes to the perfect fit for fun in the sun. Quality fabrics, nostalgic prints, and advanced construction details make each bikini stand out, and extensive fit testing and quality control ensure that they're both flattering and comfortable. This effortless blend of style and substance, combined with an obsessive focus on fit, is what sets Montce apart — and why their customers keep coming back for more. Shop my current favorite designs like the Black Rib Bustier x Uno and the Meg Paisley Euro Bow Bikini Top x Meg Paisley Brasil Bikini Bottom (pictured above) and much more by visiting montce.com or shop in-person at any one of their Fort Lauderdale or Miami stores.
• Follow Montce Swim on Instagram and Facebook.
For women, by women. Reel Skipper was born from land-mermaid duo Michelle and Samantha out of the frustration and need to see more products tailored for women in the fishing world. Since its inception, Skipper has grown significantly to provide options perfect for all water performance activities. Whether you're cruising on the boat or casting lines off a paddleboard, they believe in enjoying life to the fullest outdoors. They love creating collections that reflect creativity and authenticity for women to feel great in + hope to inspire and empower others to follow their passions and explore the things that bring them happiness and tranquility. Visit reelskipperhq.com or their Boca Raton headquarters to shop!
• Follow Reel Skipper HQ on Instagram and Facebook
Moonfish Jewelry is a handmade jewelry business established in Miami in 2011. Their style is elegant Bohemian and is one of my favorite local makers at the moment. Gayle uses precious and semi-precious stones and beads, a variety of metals, and leather to all mix and match no matter what Moonfish-combo you're wearing. Whether wearing on its own or together, most of the pieces are made so that they can be layered for effortless stacking and style. Visit moonfishjewelry.com to shop!
• Follow Moonfish Jewelry Co. on Instagram and Facebook.
You don't miss a beat when you've got Wells Coffee Co. to keep you fueled. Shop from their selection of fresh coffee beans like their holiday-inspired 'Winter Wonderblend' and signature espresso blend No. 9 (an ode to one of their favorite bands: The Beatles. $15+), to-go Cold Brew Pouch ($32), online gift cards ($10 and up), and Wells' branded merchandise to always rep your coffee clique. Visit them online at wellscoffees.com or in person at their Flagler Village location.
• Follow Wells Coffee Co. on Instagram and Facebook.
As featured on top menus from food items to cocktails at Ariete, Cafe La Trova, Dasher & Crank, The Jim & Nessie, Lost Boy Dry Goods, Navé, and Stubborn Seed, try the Native Guy and support your local beekeepers in their hard work to spread the benefits of honey and provide the best quality honey in the state. Visit thenativeguy.com to shop!
• Follow The Native Guy on Instagram and Facebook.
Por la Casa…
A list of some of my favorite local interior inspiration, furniture, home, and online shops. A gal can dream, right?
Perfect Choice Nursery has been serving the Southwest Ranches community and surrounding areas since 1999. They are a family-owned plant nursery that prides itself on exceptional service, selection, and quality, to residents, wholesalers, and landscapers in the South Florida area. They have the knowledge, experience, plant stock, and equipment to make your landscaping dreams come true and they treat their customers as their friends and family and appreciate the support of our community. Whether you're seeing a friend for the first time or looking for the perfect choice housewarming gift, look no further. Visit them online at perfectchoicenursery.com or in-person to explore more!
• Follow Perfect Choice Nursery on Instagram and Facebook.
---
Support Local + Black-Owned Restaurants
It's extremely unfortunate that one of the biggest industries in South Florida and in the United States has suffered the most and may not survive this pandemic. It's time to give back and support our restaurant and hospitality community to show we're here for them, just like they've always done for us. Whether it's ordering takeout directly from the business, buying gift cards to use at a later, safer date, or just donating to help keep that beloved local restaurant afloat, anything helps. See the guides below for places we can show up for.
TRAN AN — If you love a "bomb" hot chocolate for the holidays and supporting a local charity at the same time, the Hot Choco B's at TRAN AM must be on your do-good radar. It will be sure to warm your heart right up—while you help the restaurant spread warmth and joy to our local community, with all proceeds are going to Lotus House Woman's Shelter. Hot choco 💣 4-pack ($15) includes Triple Chocolate, Golden Milk, Strawberry Grinchmas, and Peppermint. Purchase in-store at 215 NE 82nd St, Miami, FL 33138.
• Follow TRAN AN on Instagram and Facebook.
---
This list will be updated as I receive more information. Feel free to connect with me via DM at @Lauderbabe with any corrections, updates, and/or additions. Thank you.