Nestled in Fort Lauderdale's beautiful and flourishing MASS District, JB&C is the neighborhood stop for juices, smoothies, acai bowls, avocado toast, paninis, salads, and good vibes. With plenty of parking, colorful murals, and surrounded by other businesses (like the amazing Red Pearl Yoga), JB&C offers locals a taste of the healthier things in life. These days, ask me what would be a yummy, quick lunch in Fort Lauderdale and I would say JB&C with their Juice Mafia "Longevity" cold pressed juice and turkey pesto panini, which consists of perfectly toasted sourdough bread, oven roasted maple-glazed turkey, dijon mustard, tomato, pesto & provolone cheese. You really can't beat that you're welcomed not only by a beautiful space but wonderful individuals as well. I was lucky enough to catch up with Amanda Lynn and get the inside scoop on our new favorite place to fuel up.
You're fairly new to The Hive, welcome!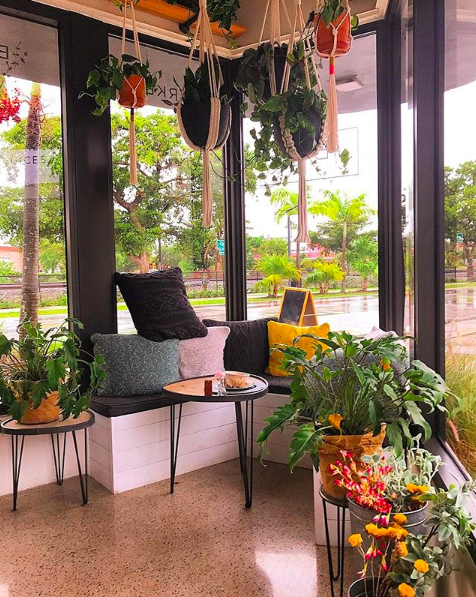 Thank you for the warm welcome!
What prompted you to choose this location for your business?
You know, it's actually funny that you ask that because we had seen our exact space in the Hive a year ago before anyone had moved in or signed leases. Our bright, beautiful space was (when we saw it) covered in black curtains, had no neighbors, and frankly seemed just scary. We were also, at that time, looking for a space for a different concept. Fast forward almost a year later, and we were ready to make JB&C a reality, and somehow this space was still available. So we saw it for the second time, walked through the doors and felt this immediate sense of "YES, this is the place!" It really did feel like it was meant to be, and perhaps meant to be JB&C.
What do you enjoy most about being a part of this community?
We really love the diversity of the HIVE, and we're very friendly with all of our neighbors. I have been going to Red Pearl Yoga since they were located in Victoria Park; my partner Memphis frequents Glitch Bar and Beer Punx and we're very friendly with the surrounding local businesses. I really feel like Flagler Village is establishing a sense of community, and we feel so grateful to be apart of that. On top of that, we feel like we're getting to know everyone in the community, we have regulars that frequent our businesses and it's so nice to get to know people by name and find friends along the way!
What was the driving inspiration behind JB&C?
It has been a long dream of mine to open a business like JB&C. My healthy lifestyle has long included things like juicing and crafting smoothies and acai bowls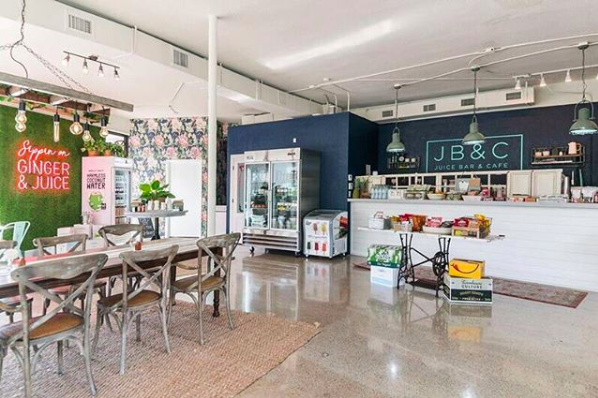 at home. I knew that I would create this one day, I just didn't know it would be JB&C or in the wonderful neighborhood of Flagler Village. This really came to fruition from noticing a huge void in the Food & Beverage market of Fort Lauderdale. At the end of the day, everyone should have convenient access to fresh, healthy food in a beautiful and inviting space. We have put a lot of love and effort into our menu and the interior design of JB&C, so it's really wonderful to see the community actively supporting us.
Do you locally source your produce?
We source our produce locally whenever possible. There are certain items that our distributors sometimes cannot provide as frequently as we may need, but our main produce supplier is also a huge supporter of local farms.
What are your favorite items on the menu?
I can actually easily answer this question because I'm such a creature of habit! My favorite smoothie is the Hemp Power (probably because I'm vegan and I miss a good chocolate shake and this one is healthy and guilt-free!) The Farmer's Avocado Toast is to die for, it's like a salad on a piece of toast. The Very Berry Acai Bowl is my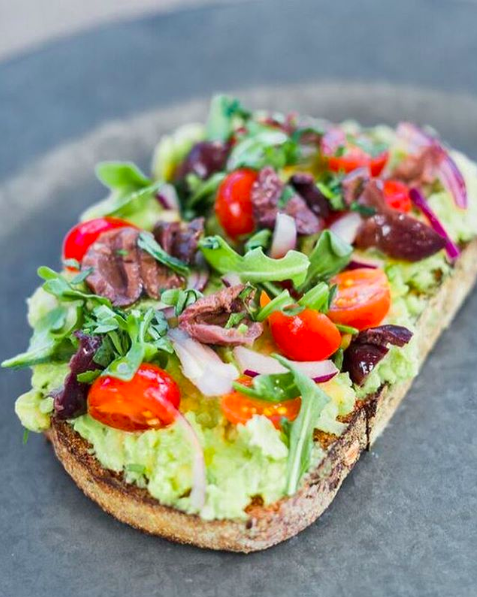 go-to Classic and I get cravings for them daily! Our Chickpea Avocado Panini is amazing and full of plant-based protein. I think something that really enhances our toasts and paninis is the quality of our fresh baked vegan, preservative-free bread that we get every single morning. I think if Memphis were answering this question he would say his favorites are the "Pick Me Up" coffee smoothie with Well's cold brew coffee cubes and beans, the Turkey Pesto Panini, and the Tropics Acai Bowl. Which just goes to show that we all have different taste, and I'm being truly honest when I tell you that all of our menu items sell pretty equally!
What are your go-to juices for feeling good?
Ahhhhh, I love this question because I LOVE Juice, especially cold-pressed juice! I think my go-to "feeling good"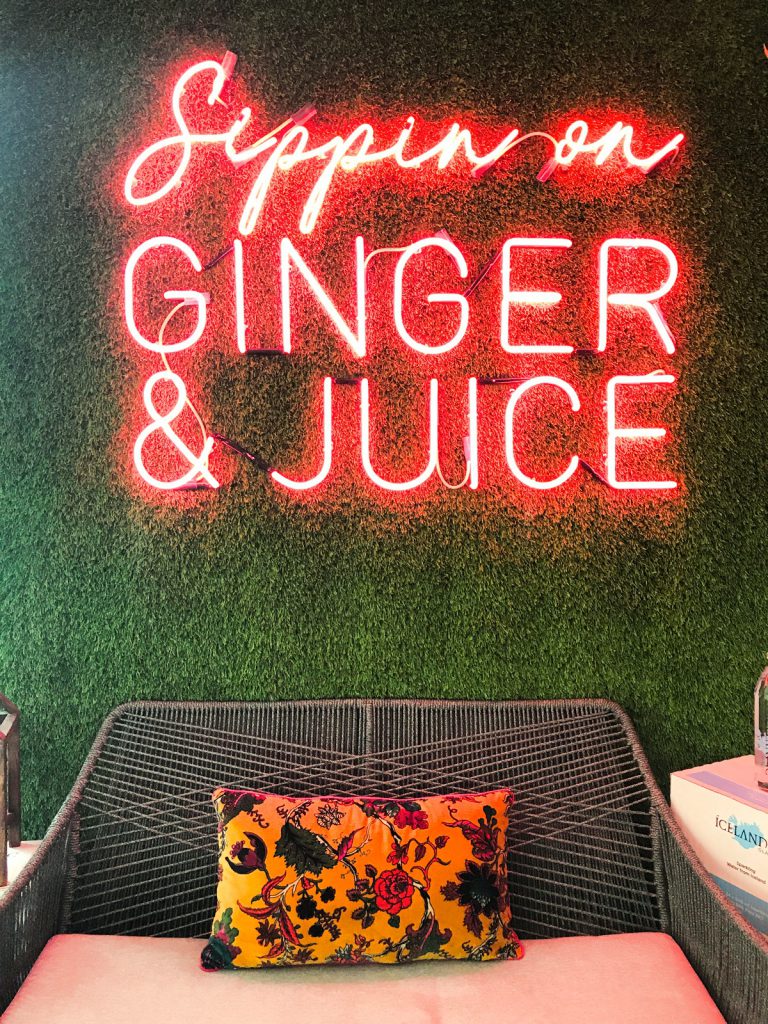 Juice would be anything green. I drink green juices daily for immune boosting and preventative measures, however, if my immune system is ever taxed, I always throw in ginger shots. Ginger has so many healing benefits, of course, I'm going to be an advocate when we created our very-loved "Sippin On Ginger & Juice" neon sign!
What are your favorite ways to stay in shape?
I've always been a huge fan and advocate for a daily yoga practice. And while I am open to other forms of fitness, and I've tried many amazing local fitness outlets in our neighborhood, I always seem to find my way back on my yoga mat. I have grown a lot as a person through my yoga and meditation practice, and I find it's the best way for me to manage my stress (which is hugely important because I believe that stress is the root of disease) I do also enjoy activities like paddle boarding and tennis which just so happen to help me stay in shape as well, double win! I would like to end on this note though, I think everyone should find what physical activity they ENJOY the most, because I think at the end of the day, moving your body is very important to your health, and if you choose an activity that you enjoy, you'll do it more often.
JB&C is located at 924 N. Flagler Drive and also plays host to local creative and wellness workshops. Stay up to date and keep up with JB&C via Instagram and Facebook.