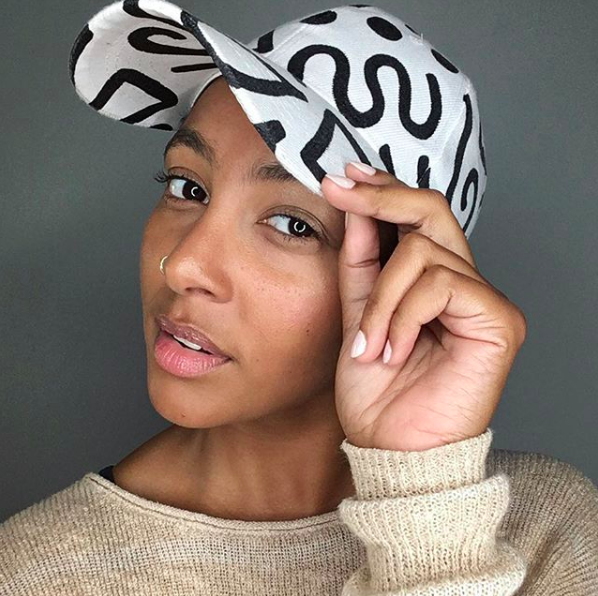 It was the end of a long Friday in FAT Village when I ran into Stephanie. I was waiting at Henry's when I saw a black Jeep pull up, and my eyes caught the design of a white hat with bold eccentric patterns on it. I looked at the beautiful person wearing it and realized, "hey, I know her." Well, not know her

, know her, but her activeness within our creative community and whimsical, playful art has captivated me for a while. Naturally, I had to introduce myself. I awkwardly walked up to Stephanie and once she realized who I was, I was awarded the biggest and most genuine hug. "OMG!" she exclaimed, "Whenever my girlfriend and I want to lookup a place to eat, we're like, "let's look at Lauderbabe!" This was kind of a "pinch me" moment, for someone whom I've followed and admired knew who I was! It's an awesome feeling when different worlds and common passions collide. Having genuine, human connections like this is what makes the growth of arts, music, and culture in Fort Lauderdale so invaluable.
Stephanie, 28, has come a long way since using Windows Paint on the family computer to create visual artwork. As a child, whenever she was unhappy or others were unhappy and made her environment stressful, Stephanie would draw or paint. "It helped soothe my nerves and the tension. I like to say creating has always been my meditation. Calmness, yet alive is the feeling that I want to evoke when others view my work," says Steph. Besides strong, independent women, and good people, being in the Fort Lauderdale arts community is what truly motivated her to pursue art full on. "Utilizing my connections and realizing my talents was the start," explained Dorsainvil.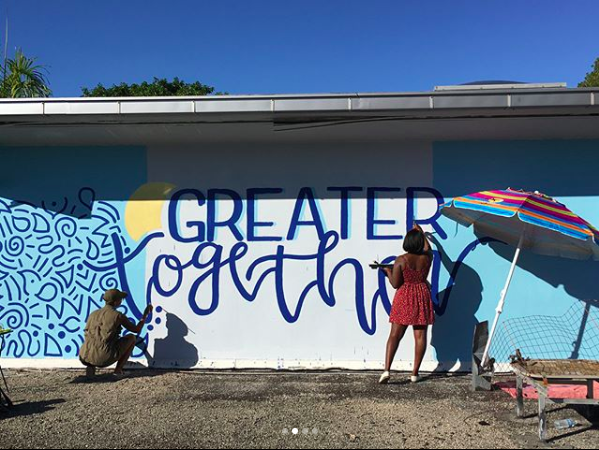 "A project that I worked on that was a lot of fun was the 'Open Canvas Project'. Right off of Andrews by the bus terminal, it's a huge abandoned building that over 80 visual artists helped beautify. It was electric being out there with so many amazing artists and seeing all the colors. I worked on my section of the building with a friend of mine, Claudine Julien, a fellow Haitian American artist that does typography. She put up the words "Greater Together" and I did the background."
"Meeting so many wonderful people. Both artist and art appreciators, has been one of the greatest aspects of creating artwork," says Stephanie. "Another project I've recently worked on was the back wheel cover on my Jeep. When I bought my car the salesman asked if I wanted the wheel cover. I was turned off at first because it was stamped with the car dealerships logo. But then my eyes lit up when I realized that I can paint over it! I was so excited. Having a Jeep is all about customizing it and this is for sure one way I've stood out from the rest. I constantly find people taking photos of it and flagging me down to give me a thumbs up."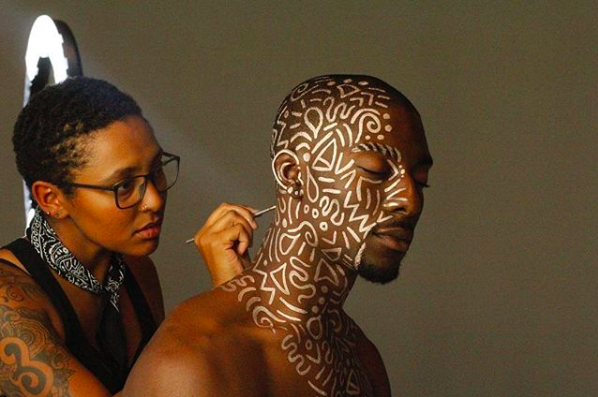 I'd say that's some pretty great advertising. Stephanie has also been working on hand-painted hats lately. They are such a fun statement piece, and it's what caught my attention to Dorsainvil as it showcases her signature designs. "I've been getting a lot of wonderful feedback and support from them," says Steph.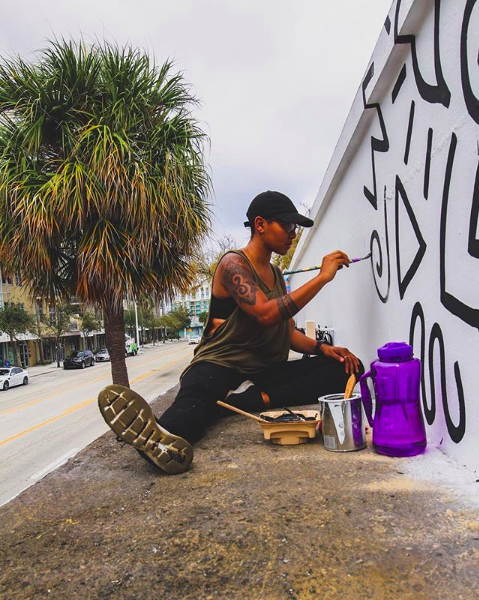 At times, an artist has their challenges. When asked to explain her artwork, it comes down to a feeling. "Explaining my work. Why I do it, and how it makes me feel. Also, what I would like the viewer to take away. I'm not so good with words so when I'm asked questions about my work I fall into my mind and into that feeling I get when painting. I try to verbalize, but I get stuck. Most of the time I just shrug and say "it feels good." However, in retrospect, it teaches the process as an artist and conceptualizing what she wants to accomplish. "Painting so many hats has pushed me harder into the direction of printing fabric. I would love to have a line of home decor items in the store (or a store like) Z Gallerie. So, that's what's brewing up right now. I just bought my mom a new sewing machine so we can play around and create together. Also, I would like to publish an old-school flip book."
I asked Stephanie how important it was for her to grow through the process of being an artist organically. The answer: very. "I've really taken my time when it comes to putting art out. I came out the gate strong but now I've slowed up a bit. I've had many opportunities to do things but just felt it wasn't the right time or place. I have a lot to learn still. Both about the art world and about myself. I constantly ask myself "why am I doing this?" I think it's important, to be honest with yourself."
It's that honesty and soulfulness that is certainly one of a kind and could make anyone feel calm and alive and I for one, cannot wait to see this rising star keep shining bright.
Connect with Stephanie at her Photography Workshop Monday, June 18th, from 7 PM to 10 PM at Face2Face Studios (@f2f_studios). You can purchase art or reach out to Stephanie Melissa Dorsainvil for commissions through email SM.Dorsainvil@gmail.com and through Instagram @stephanie_melissa.