#SupportLocal and get perfectly unique gifts for your loved ones!

Sometimes you have to show your gratitude toward your besties, lovers, and family, whether it's for a holiday or just because. But don't worry; I've done the legwork for you. From local art to killer jewelry, you can find something at one of the many neighborhood destinations I've listed. Also, self-love is essential too, so don't forget to treat yourself (any excuse, right?).

ACACIA – ACACIA is a hidden gem in East Fort Lauderdale. The South African-born owner, Siegi Lindsay, possesses a distinctive sense of style you will immediately treasure for this season and for all your needs to come. Her passion for collecting art, jewelry, furniture, books, and handmade objects from around the world is yours to soak in. Every object has a story, and Lindsay is happy to share it with you, which is one of the many unique things about this little shop. The offerings are eclectic and diverse; from cocktail books, specialty kitchen items, and baby gifts, you'll find something for everyone here. There are even gifts from Oprah's Favorite Things 2018! I'm no Oprah, but here are a couple of my selections listed below.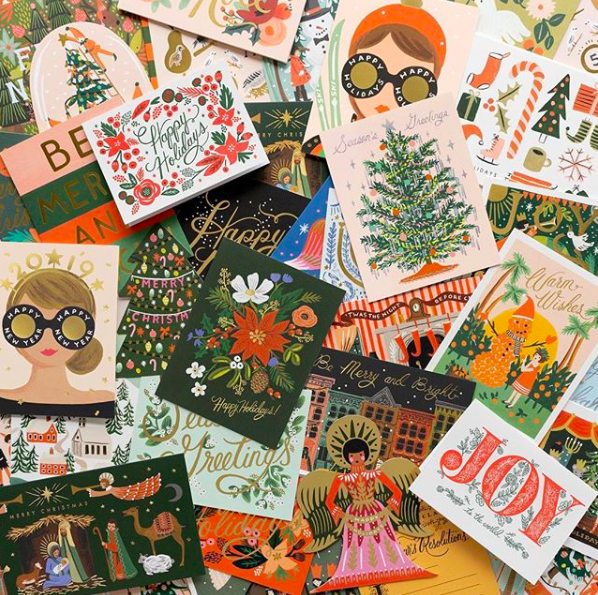 1. Ritual Provisions Moon Batch Candles – Beautifully crafted candles poured during the last full moon. My pick for fave scents is Edition 91 of 120 Sweet cream, Jasmine, Orchid, & Musk and Edition 23 of 150 Orange Blossom, Clove, Patchouli, Cedar, & Sandalwood.
2. John Derian Company + LAFCO New York Candle – LAFCO candles are naturally luxurious. The Scent is a rich, floral incense consisting of white violet, heliotrope, and agarwood for a romantic scent you can't quit.
3. The Festival Survival Kit – This Men's Society "festival survival kit" includes toothpaste, toothbrush, ear plugs, poncho, and a multi-tool all in a compact little case that screams perfection for the music-loving, festival-going hipster in your life.
4. Panier des Sens Hand Cream – Love this hand lotion! Panier des Sens comes in an array of scents, including but not limited to Rejuvenating Rose, Relaxing Lavender, and Energizing Verbena. These hand creams are the perfect travel buddy when you're on the go.
5. RIFLE PAPER Co. – RIFLE PAPER Co. creates original greeting cards, art prints, calendars, planners, stationery, journals, notepads, recipe boxes, and more!
6. Via Mercato European Soaps – The sweetest smelling giftable wrapped soaps! Choose from scents such as "Frosted Forest" a captivating scent of citrus, cedar, violet leaves, aquatic notes, white musk and grey amber wrapped around for a woody finish and "Falling Snow" — think winter flowers wrapped in patchouli, amber, and musk. YUM.
7. Matta Collection – Matta is a combination of a simple style and endless possibilities. I am in love with their hand-woven and hand-dyed shawls made from a blend of cotton and silk.
8. Eclectic cookbooks, Cocktail books, and More – I love getting books for gifts. Books are something so simple, but with the right thoughts going into the personality of the giftee, it could be a perfect item. Book options at ACACIA include Pimp My Noodles, The Bloody Mary Book, Pocket Frida Kahlo Wisdom, and many, many more.
9. Anthony Lent Jewelry – Anthony Lent makes fine handcrafted jewelry, unlike anything you have seen before! I quickly became in love with their uncommon designs of skull rings, gemstone necklaces, and moon rings.
9. Fishs Eddy "Cawffee" Ceramic Coffee Mug – Being born in Brooklyn, NY and raised in Massachusetts, I was instantly obsessed with this cute mug that was very representative of where I come from. (Siegi actually gifted this to me since I loved it so much. Thank you S!)
10. Jenni Earle – Bandanas, bandanas, bandanas! It's one of my current fashion go-to's to spruce up a simple outfit. Jenni Earle bandanas are made by hand in the Carolinas. They are cut and sewn in South Carolina and then dyed by hand in Winston-Salem, North Carolina.
Follow ACACIA on IG at @shopacacia.
OVERCOAST VAN EXPERIENCE – The Overcoast Van is an experimental travel and community project designed to bring van life experiences to those seeking adventure! Enjoy Florida while cruising in this 1972 Westfalia camper van with perfectly preserved vintage beauty. The Overcoast Van is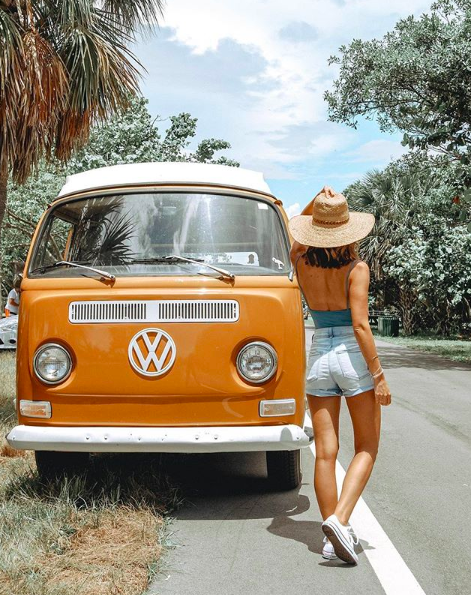 perfect for a weekend getaway, special celebration, or photoshoot! Local entrepreneur and Overcoast owner Alexandra is passionate about creating authentic, fun trips for her guests that turn into an experience of a lifetime. Be like Nike and JUST DO IT. To book your Overcoast Van experience, contact Alexandra at either of the following: Visit: www.airbnb.com or email: overcoastvan@gmail.com.
Follow Overcoast Van on IG at @overcoastvan.
THE WANDER SHOP – Support your local #GirlGang and shop at The Wander Shop! Shop their selection of boho-chic designs with a fun edge, from "Dog Mom" tees and cozy sweaters; the Wander shop has trendy gifts to suit anyone on your wishlist. Some of my favorite items include:
1. Stone and Flame Decor custom candles in "Ocean" – Wander Shop owner Marisa created this custom blend with Stone and Flame to create this subtle scent of salty-ocean air.
2. Kenya Slip Dress – Throw on this comfortable yet sexy slip dress with sneakers and a leather jacket for a fresh and casual look or with strappy heels for date night. Literal perfection.
3. Harper Made Jewelry – Dainty, simple jewelry that won't break your bank.
4. Bungalow Drift – Be effortlessly cool in BD's Keramas Bamboo Bag + Canggu Rattan Ata Bag. (Can't make it to The Wander Shop? Purchase online or at Bungalow Drift's studio in Fort Lauderdale!)
5. Duvin Design Co. – Duvin serves up specialty surfwear, t-shirts, board shorts, and all over button-down prints from the "filthy flamingo gang".
6. Erin Made Headbands and Boho Bands – Erin Made is a women's handmade bohemian clothing and accessories line. Embodying the color and vibe of the sunshine state, each piece is unique, just like its wearer. Dress it up, dress it down, v Insta-worthy.
7. Brody's Bandana's – The perfect gift to pop your pup! Get your doggo holiday ready with the most adorable handmade pet bandanas produced right here in South Florida.
Follow The Wander Shop on IG at @tothewandershop.
CRATE OF BEES – Get locally sourced honey from Crate of Bees. Crate of Bees is a small business from a tree-loving family dedicated to the preservation, education, and good ole honey. Their hives are located on an acre of land in the heart of Fort Lauderdale, that has been pesticide-free for over 30+ years. CoB's Queen Bee, Kaela Roffman has collaborated with Sarah Glass Ceramics to create one-of-a-kind gift sets that are as beautiful as they are thoughtful. The two sets they are currently offering are:
1. Little Bee – Homemade ceramic espresso cup, cactus ornament, two home-grown honey straw sets, tiny air plant, and little bee.
2. Queen Bee – Homemade Medium Sized Cup, matching ceramic espresso cup, personal cactus ornament, Honey-Bee garden starter, a homegrown jar of local raw honey, ultimate honey straw set, air plant, and little bees.
To place an order, please contact info@crateofbees.com or DM on
Instagram.
Follow Crate of Bees on IG at @crateofbees.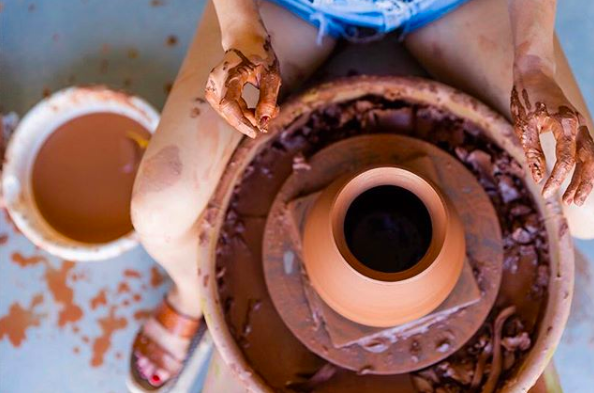 SARAH GLASS CERAMICS – Perfect for a girls day, date night, birthday, "me" time, anything! Sarah is a ceramicist with a studio located in the Flagler Village neighborhood of Fort Lauderdale. Contact the studio for more info and to book a party or single class SarahGlassCeramics@gmail.com or (561) 596-1289.
Follow Sarah Glass Ceramics on IG at @sarahglass_ceramics.
IS PROJECTS – IS Projects is a printmaking, workshop, and collaborative studio and gallery in the heart of Fort Lauderdale and this holiday season they'll be promoting their 2019 Print Club! Whether you're interested in learning linocut, screenprint, letterpress, monoprint or dry point, IS Projects Print Club membership offers a little something for everyone. Print Club members will meet twice a month for demos and open studios, and they are also introducing a 2019 Studio Pass for discounts on their open studio nights! Get inky in 2019! Get further details and sign up here.
Follow IS Projects on IG at @isprojects.
SUPPUP PADDLEBOARD TOUR – What better way to see the "Venice of America" than from its stunning Intracoastal waterways by SUPPUP! Experience standup paddleboarding with Mr. Beaches and the hostess with the mostest, Natasha Baker! No experience? No problem. Their tours focus on the beauty surrounding us, and not your paddleboarding technique. The goal is to enjoy yourself and take in all Fort Lauderdale has to offer. To schedule your tour or find out more information, visit their website or contact Natasha Baker Williams at (954) 695-7062 and info@suppupftl.com.
Follow SUPPUP on IG at @suppupftl.
SUPPORT + BUY LOCAL ART – Support your local artists by purchasing one of their creations for a one-of-a-kind gift. You may find someone you like by scouring neighborhoods like The Hive and FAT Village, by checking out this link or by researching artists at Broward Arts and Hollywood Mural Project.
FLORIDA STATE PARK MEMBERSHIP –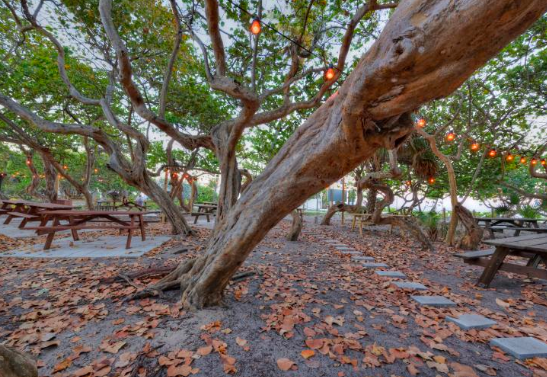 Hang out at Hugh Taylor Birch State Park Fort Lauderdale's "Central Park" for the perfect weekend plans! Purchasing a membership is a great way to get outdoors and soak in what this beachside city has to offer. Hugh Taylor Birch boasts kayaks, paddleboarding, biking trails, and more! What's even cooler? After a day of activities nourish and hydrate with your favorite local bites and beers at Park & Ocean! Go for the gifting gold with the Florida State Park Pass Bundle which includes Annual Individual Pass + Deluxe Passport. The Deluxe Passport contains 216 pages filled with useful information about the parks, places to collect stamps from the different parks visited, a fold-out map of the various parks and park districts, as well as plenty of space to take notes. This spiral-bound booklet and an annual pass is an ideal item for any outdoor explorer! Purchase Florida State Park Passes and merch here. (For more information on our beloved local Hugh Taylor Birch State Park click this link.)
Follow Florida State Parks on IG at @fl.stateparks and Hugh Taylor Birch State Park on IG at @friendsofbirch.
Be extra and top it off with a gift card or stocking stuffer from the following excellent local businesses!
• Brew Urban Cafe •
One of the coolest coffee shops in Fort Lauderdale! Located in FAT Village, Brew is the perfect backdrop to a rainy study afternoon or morning pick me up before you get your day started.
Follow Brew Urban Cafe on IG at @brewurbancafe.
• Radioactive Records •
Rock someone's world with the gift of music! Radioactive is always a great time digging for that new record that is just waiting to find a home in your collection and Natalie and Gunther are sure to help you find whatever you need.
Follow Radioactive Records on IG at @radioactiverecords
• Wells Coffee Company •
#DrinkDeeply and support this beautiful minimalistic coffee shop. They have the cutest 'lil coffee bean bags that are perfect for stocking stuffers — and word on the street is there's a coffee subscription program in the works.
Follow Wells Coffee Company on IG at @wellscoffees
• Riverside Market •
On the go but still want a personalized gift? Bust it to Riverside Market and pick up a gift card and personalized 6-pack for the beer enthusiast in your life. After all these years, this hole in the wall beer joint remains to be one of my favorite local Fort Lauderdale establishments.
Follow Riverside Market on IG at @riversidemarket
• Lucky's Market •
I'll be real, I swoon every time I get Lucky's gift cards in the mail! I genuinely enjoy cooking at home, and the truth is the way to my heart is through my tummy. I applaud how Lucky's Market partners with local brands, giving them a platform to reach beyond their individual demographics.
Follow Lucky's Market on IG at @luckysmarket
• Montce Swim •
Be the best Santa ever and give the gift of swim — Montce Swim to be exact! Montce Swim (if you've been living under a rock) is a Fort Lauderdale based swimwear company that has been a favorite of women all around the world for several years now. Montce has made it easy this year with "wish lists" that directly compile the style, size, and colors of the 'kinis you want and the associates from the store will reach out to the individual you would like to receive your gifts from. Who knew to get Summer '19 ready was this easy?
Follow Montce Swim at @montce_swim
• Zen Mind Space •
There's no better time like the present to balance those chakras, babe. ZMS is one of the most beautiful yoga studios I've been to in Fort Lauderdale, and you can choose from a wide variety of classes including "Mood Balancing Yoga Flow" with Chloe Ravel or "Yoga for the Adolescent Warrior" with Emmy Slaibe. Pro Tip: First class is free!
Contact them here or check out class offerings here.
Follow Zen Mind Space on IG at @zen.mind.space
• JB&C •
Juice Bar & Cafe popped up in The Hive earlier this year and quickly became a beloved local favorite. They serve up the best avocado toasts and smoothies around and all with the biggest smiles. Treat the health nut in your life to some JB&C goodness!
Follow JB&C on IG at @juicebarandcafe
• Victoria Park Flower Studio •
Victoria Park Flower Studio is my go-to spot to pick-up fresh, beautiful flowers in Fort Lauderdale! Not overpriced like many businesses in town, the flower studio offers quality customer service and product first and foremost. I can always find something special here and know that whomever I gift their flowers to, they'll love. This year, they are offering holiday bouquets starting around $35 and for $6 or more, can even include custom ornaments that were used on the Bonnet House Christmas tree this year! How cute it that?
Follow Victoria Park Flower Studio on IG at @victoriaparkflowerstudio
No matter what you decide to gift, the most important thing to remember is the spirit, love, and excitement of being in that moment… Happy Holidays! Love, Diana.